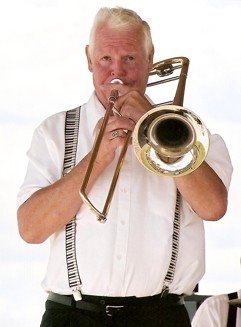 Fred Leadston served as "interim" Musical Director of the Petawawa Legion Community Band from September 1998 to September 2000. Fred, a retired Canadian military bandsman, commuted from Kingston, Ont. during part of this time (when not at his summer cottage nearby in Pembroke, Ont.), providing musical directorship for the band during its search for a new conductor.

Fred Leadston began his musical career in his hometown of Guelph, Ontario at the age of 13, learning both euphonium and trombone. At age 18 he joined the 2nd Canadian Infantry Band, which became the Regimental Band of the Canadian Guards, directed by the late Dr. James Gayfer. The Petawawa-based Guards Band served with the 4th Battalion in Korea in the 1950s, and numerous memorabilia of this Band are on display in the Base Museum. Ironically, the Petawawa Legion Community Band's founding director in 1978 was Dr. Gayfer, so the group's association with veterans of the Guards Band was not a new one.

When the Guards Band was dissolved, Fred Leadston transferred to Montreal and for a time acted as the Assistant Director there. He served a stint with the Central Band in Ottawa, was Bandmaster of the Air Forces Band in Trenton, and finally served with the Vimy Band in Kingston until his retirement in 1985.

In 1990 Fred founded and directed the Pittsburgh Township Community Band (now part of the City of Kingston). Four years later, as preparations were under way for the 50th anniversary celebration of D-Day, Fred formed a 14-piece group called "The Music Vets". This group included many former members of the various Forces' Bands with whom Fred was associated during his musical military career.

While spending summers at his cottage across the Ottawa River, Fred came into contact with the Petawawa Legion Community Band, and on one or two occasions directed the Band. Years later (1998) he was asked to fill in as director until a new permanent director could be found, and this task he graciously accepted.

Fred passed away in February 2008. The following obituary was circulated to friends by fellow musician, Ron Lloyd:
---
New Orleans Express' Trombonist Dies
It is with great regret that I want to report that our very popular trombonist, Fred Leadston, died peacefully at Marianhill on his birthday, 3 Feb 2008. Fred had been ill since early December 2007 and went steadily downhill. Fred had incredible support from his family and many, many friends. Fred began his musical career at the age of 13 as a member of a youth band. Because of his success in music festivals on trombone and euphonium he was chosen to participate in the first Ontario Youth Concert Band. Subsequent to this success he began to have private tutoring at the Royal Toronto Conservatory. In 1953 he was recruited into the military by Capt. James Gayfer, Doctor of Music. He played with the Regimental Band of the Canadian Guards, The Artillery Band in Montreal, the Central band in Ottawa, Band Director of the Air Force Band in Trenton and finally served with the Vimy Band in Kingston until he retired in 1985. In 1990 he founded and directed the Pittsburgh Township Community Band and, in 1993, an 18 piece band, "The Music Vets", in Kingston, Ontario. Fred and I played together occasionally when he came up from Kingston to go to his cottage. We bumped into each other at the Pembroke Mall in 1999 and Fred said that he heard I was forming a jazz band and offered his services as trombonist. Of course I jumped at the chance. We played our first gig at Pembroke Shores Golf Club on 23 October 1999. Fred is one of those fairly rare breeds of musicians in that he can both read music excellently and also improvise. He had a beautiful tone and his rendition of "The Nearness of You" was always a show stopper. Fred had a great sense of fun and kept us amused at gigs and rehearsals. He loved to play the nose flute and got notes on it so high and loud that we all had to run for cover. He did a hilarious takeoff of a drunken Scottish Trombonist on our closing song, "Show Me the Way to Go Home". Fred liked all kinds of music and liked to play double bass when we did occasional skiffle music. For a time he helped out the Petawawa Legion Band as their interim Music Director. Fred was a great innovator and once made himself a dental orthosis so that he could play the trombone without air leaking up into his sinuses! As fans of our band will know we play a challenging repertoire of tunes which would have been impossible to develop without Fred's input - he was part of a tightly knit group of fine musicians. We have Gordie Tapp on cornet, Ted Clifford on clarinet and soprano saxophone, Glenda O'Brien on piano (with backup from Matthew Edwards), Roy Yandt on drums, Peter Anderson on banjo and myself on double bass. In Fred's absence we have been extremely lucky to obtain the services of Mike Britton, another very talented trombonist. Fred was the sort of friend that could pop in unannounced and be very welcome. He was extremely generous with his talents and time and would do anything for anybody. Fred's wife, Judy, was also an accomplished musician. They are probably organizing a gig in Heaven with several other Valley jazz musicians who have passed on - Mickey Hammond, Gerry Helke, Larry Brum and "Wild" Bill Stevens. We shall miss you, Fred. You were a wonderful musician. - Ron Lloyd, leader, New Orleans Express, Pembroke, Ontario.