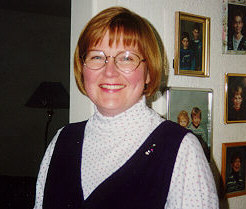 Anne Dickson became the Music Director of the Petawawa Legion Community Band in 1991. Having joined the Band in 1988 on first clarinet, Anne soon accepted the role of "substitute conductor" in recognition of her extensive musical background. She took over the baton from Kaz Samujlo when he moved to Ottawa three years later.

Anne (née Anne Dunnett) grew up in Thunder Bay, Ontario, and obtained her Bachelor of Music in Education in 1981 from Brandon University, Manitoba. She began her teaching career by implementing general music programs at two schools, W. B. Lewis Elementary School and F. W. Gilbert Elementary School, in Pinawa, Manitoba. During this period, she met and married Lawrence Dickson, a Nuclear Chemist at AECL, and by the time their first son, Matthew, was born in 1984, she was running the band program for Grades 7 and 8 at Pinawa Secondary School. At this point, Anne retired from teaching temporarily to care for her new baby. Not long after, she started a community band in Pinawa, which is still going strong today.

The couple's second son, Neil, was born in 1986 and in the following January, Anne went back to teaching at Pinawa Secondary School on a part-time basis. In 1988, Lawrence was posted by AECL from their Whiteshell (Manitoba) Laboratories to the Laboratories at Chalk River, Ontario, and the little family settled in nearby Deep River.

In addition to her many musical interests, Anne enjoys reading, crafts and gardening, but music remains the most important influence in her life. She has performed with many extra-curricular musical groups in Manitoba and Ontario, and still performs with the Pembroke Legion Dance Band and the Deep River Symphony Orchestra, as well as taking part, from time to time, in productions with the Pembroke Musical Society and the Pembroke Little Theatre, both as an actor/singer and as a member of the 'pit' orchestra.

Anne was for many years the music teacher at Mackenzie High School in Deep River. Now retired from teaching, she continues her musical "career" as director of the Deep River Community Band, which she formed.